17th tri.phonic report: pics are in
[pics in from the 17th july tri.phonic]
dear tri.phonicists,
Thanks to all who came out last night, it was an enjoyable evening indeed, bearing witness to a series of aural events, including a live set from Daniel Gardner under his Frivolous moniker, and a noisy, field recording jam-over via tobias' alter-ego, saibot. Ryan Mitchell-Morrison as Humdinger gave credence to the fact that a laptop can be used as one instrument among many, performing effects pedals, obscure synth keyboards, a modern-day theremin, and other assorted oddities in an intraweaved composition of Reichesque loops and undulating patterns and bursts. Finally,
Fishead
showed up to battle obscure noise and mash-up records, besting tobias 2 to 1 in the dubplate challenge. tobias, however, vows to return in two weeks with his own oddities. So there ya' have it: everything from atmospheric and minimalist dub techno to microhouse, breakcore to noise, ambiance to field recordings, live improvisation to turntablism. We'd like to invite y'all back in two weeks when rumour has it VJ
Johnny Ranger
, back from Brazil, will be dropping the visuals-- & in that vein, thanks to Pillow and Yasuko for jamming visuals the past three soirées ..
Alright, down below, we've got the no-nonsense Pillow on the visuals (he usually is laughing -- but never get between a man & his Powerbook), Ryan rocking out the gear with Daniel in behind on the decks, and two sweet pictures of the SAT on a warm, Montréal evening...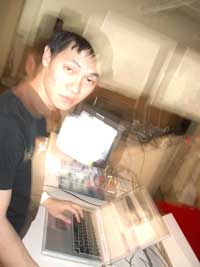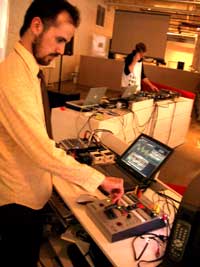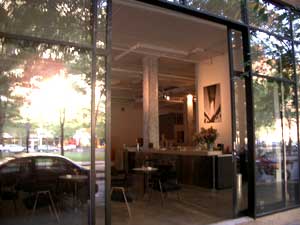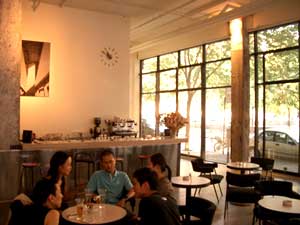 Posted: Fri - July 18, 2003 at 12:33 PM
tri.phonic
Email Comments