Vancouver, BC, Canada -- I've been here a few days in the land of grey dawn and overcast horizons.. Flying in, through 20 minutes of dense fog down the valley, the plane utterly still, it felt like we were neither moving nor descending. Passengers dropped to silence as the eerie nothingness peered in the windows..
Being here since is like time regained -- my mental map of Vancouver must accommodate sudden landmark changes, shifts in the roadscape, storefronts change-ups, gutted burnt holes where Spartacus used to be, new clubs, old faces in new positions of influence .. and few people recognise me: always a double-take.
It's already been busy and compressed since a certain 153 page document crossed the desk of McGill last Friday, freeing me to flee on the plane to the earlier timezones... Thanks to
Kate Armstrong
and
the Western Front
for a cosy and intimate talk at the
Upgrade
this past Tuesday.. it was enjoyable although nerve-wracking (trying to demonstrate net-art that no longer works!.. digital detritus indeed..). Those interested in transcripts of the talk (loose notes) can contact me. Also thanks to
Marc Brady
for having me on to his soundscape show on
Co-Op radio, 102.7FM
on Wednesday evening with Stephanie Loveless. olo charged me with dominating the conversation ... I've always been a friend of radio so my deepest bows for acting the microphone fiend .. I'm just gearing up for Nardwuar.
Tonight -- @ the Lamplighter:
This will be my third time gracing the stage with the infamous
Todd Drootin, aka Books on Tape
. Monsieur
olo J. Milkman
, Esq., is putting on the show with his comrade Square Root of Evil, and Vancouver dandies Coingutter have promised to apparently sacrifice me for my hubris: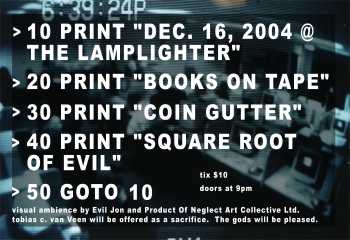 Tomorrow I rawk it out with
Nardwuar
, 3:30pm PST on
CiTR 101.9FM
(check it online too). Next week, Wednesday, is some (big)
Trouble
@ the Lotus .. I checked it out last night (thanks for the drop-in, Team Trainwreck!) -- place was dancing to the beat of shit nobody there had really ever been alive for. Average "barely 19" age places the birthdate at about 1985. For the low-end hipster the '80s were passed in childscape land... olo had this theory that each generation isn't turning to their parent's music but rather the music that came just after, a kind of in-between skip between the parental tastes and the early introduction to the tunes one becomes socially aware of (or, perhaps this has to do with increasing media saturation in childhood? This music must seem comforting if it was heard in the womb .. Liasons Dangereuses soothes the '80s kids .. yikes) .. I mean I was unable to trainspot a particular Thomas Dolby track (and I was born in the '70s kids), which raised the shame level of my inferiority in front of olo's suave '80s reconnaissance (mind you, he's got about 10 years on me). But I fought back my naming unknown early acid house trax, which is what we get next week: an attempt to return to a past experienced rather than skipped.. although I kind of dig the way people are searching for the unknown experience in a past that oddly isn't theirs per se -- kind of a rewind & reclaim..
posted. Thu - December 16, 2004 @ 12:08 PM