espaceSONO on canoe.ca & deep.listening.session
espaceSONO::audio.lab
opened last night @
SAT
// a mixer_milieu of bodies & people, gaggling & oggling, digging into the couches and listening, kissing in the tent & feeling the claustrophobic density of the cube ..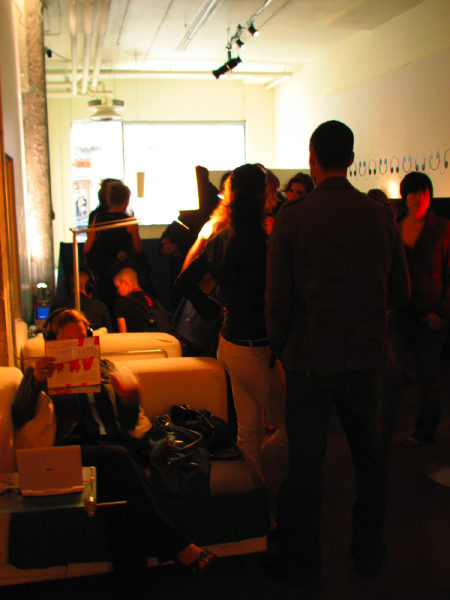 CANOE.ca
covered
the madness among others. Thanks CANOE, because my documentation sucks. Here are some Flickr archives documenting the assembly of the listening.environments _ :
. [
espaceSONO set_up
]
. [
espaceSONO vernissage
]
. [
espaceSONO art.works
]
. [
espaceSONO interior
]
. [
espaceSONO exterior
]
For some reason I figured that curating a sound_art show with a unique environment requiring extensive design, production and construction wasn't enough, so espaceSONO is punctuated by four concerts: the
vernissage
(which featured 3.5 hours of live experimental sound-art performances), the
deep.listening.session
, a
sound-walk with andra mcCartney
, and a closing, intimate,
gallery.performance
.
The second event launches the second week of the exhibition -- !! -- the '
deep.listening.session
'. The concert will feature immersive, surround_sound in the main room @ SAT. Circular seating in a black-box environment of darkness & a line_up of serious heavyweights that should both maximize and minimize the use of volume pressure:
Martijn Tellinga a.k.a. BOCA RATON
(NL),
o.blaat
(NYC),
Martin Tétreault
&
Mike Hansen
(TO -- first ever performance for Mike in MTL and first duo w/ Martin...),
Nathan McNinch
(MTL),
Doug van Nort
& myself under the guise of
tobias.dj
.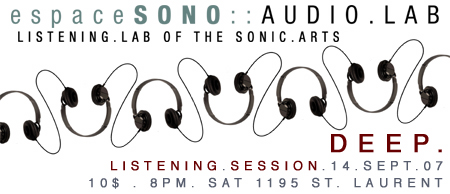 Thanks to everyone who made their way out. No thanks to discriminatory monolingual media. Most thanks to underground
CKUT
which, like all campus & community radio across Canada, dares to tread where the CBC has long retreated. W(h)ither the English media?
//.
posted. Thu - September 6, 2007 @ 06:08 PM
|