"As the first movie of its kind to document and situate the 8-bit scene within contemporary art discourse, 8 BIT should be recognized for its potential to become a seminal document of 21st century new media arts." (Paddy Johnson, The Reeler)
Check this out --
8bit documentary
on artists messing with videogames and gaming technology at
SAT
this Saturday, February 17th. 8 bones. I'll be djing the afterparty along with
Taxi Nouveau
, VJs
Tind
&
Futil
& NYC's
Jamie Alle
n
.
Allen will be pulling out his live circuit-destroying webcam
machine
. SAT infos_
en français
//
in english
. Thx to Cindy Poremba from Concordia for putting this together.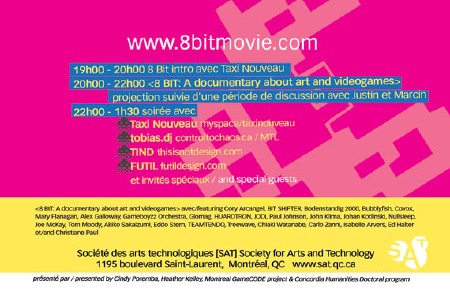 A visually and sonically dynamic mix of rockumentary, art expose, and critical exploration,
8 Bit
is the definitive documentary about video games and their intersection with the art world and culture at large. By weaving together arcane histories of digital subterfuge, candid interviews with cutting-edge artists and theorists, wild videogame concerts, and highlights from the best digital artwork being made today,
8 BIT: A Documentary about Art and Videogames
exposes the cultural ramifications of video games and proposes that Generation X's coming to grips with its digital heritage signals the beginning of a new social and artistic reality."
Featuring Cory Arcangel, BIT SHIFTER, Bodenstandig 2000, Bubblyfish, Covox, Mary Flanagan, Alex Galloway, Gameboyzz Orchestra, Glomag, HUAROTRON, JODI, Paul Johnson, John Klima, Johan Kotlinski, Nullsleep, Joe McKay, Tom Moody, Akiko Sakaizumi, Eddo Stern, TEAMTENDO, Treewave, Chiaki Watanabe, and Carlo Zanni; curator Isabelle Arvers; media critic Ed Halter; and new media curator/writer Christiane Paul.
Filmmakers Marcin Ramocki & Justin Strawhand will introduce the film and will be joined by artist Mary Flanagan for a Q & A following the screening. The evening will continue with DJ/VJ performances from local artists.
DJ :: Taxi Nouveau myspace/taxinouveau
Taxi Nouveau is an electronic music project that was launched in 2004. The man behind it is Manuel Chantre, composer, sound designer, performer and DJ. He's pushed the limits of many styles from electro, tech-house, 8 bit music, idm, sound design and club music. He started under the name of Mr. Knobs and broadcasted on independent Montreal radio. He is know for his live Gameboy set performed at Montreal events like Mix_session, Arcadia, Fantasia and underground arts evening. He remixed pieces of Jan Pienkowski and was remixed by Elektro-boy. Taxi Nouveau has collaborated with his friends Docteur Douleur (MC), Mr. Stitch (guit), Rosalie Couture (vocal), and Raphy Belizaire (lyrics). As a dj, he mixes an energetic music collage driven by dark electro and tech-house. Some off road for the club! Who will take a ride???
DJ :: tobias.dj controltochaos.ca / MTL
Montreal's underground techno-turntablist offers up a delectable mix of microhouse & dub techno designed to twist the mind as well as the body.
VJ :: TIND thisisnotdesign.com
TIND (thisisnotdesign) est un regroupement artistique de Montréal formé d'artistes et de professionnels des arts. Actif depuis 2001, TIND compte comme membres plusieurs VJs, artistes vidéastes et photographes. TIND joue avec des textures visuelles créées principalement par les erreurs vidéo retrouvées dans la compression, les interférences et la rétroaction (video feedback). Cette texture s'accumule par couches successives créant une zone floue entre le figuratif et l'abstrait. Les visuels sont structurés sur le rythme de la musique, l'un fait echo à l'autre.
VJ :: FUTIL futildesign.com
Alexandre Berthiaume, founder of FUTIL design is a multidisciplinary artist working in the field of the industrial design, the lighting design, graphics arts, Web programming, video animation 2D and 3D. Futil design gathers several design of pieces of furniture, luminaries and objects sold throughout America. Web work counts nearly thirty Web site including 2 recommended by Infopresse and Graphika. Several graphic design to it's credit of which album for Hakan Libdo and Miguel Graça. On the level of the 3D graphics, 3 years of work on multiple architectural projects. Having obtained a baccalaureate in architecture in 1999, its formation was supplemented by multiple researches in industrial design, graphics and multi-media. The video comes from the deepening of research in 3d graphics and flash, programming, developing new ways of creating algorithms random graph combined with sound interactions. The first concern is the sound inter-action, the luminous intensity and the color. The remainder is composed of elements generated or transformed mathematically. The programming is at the heart of the creation. Generation of form, distortion and movement randomly while integrating the sound variables. Simple, pure and an interactive result.
Guest :: JAMIE ALLEN - LIVE heavyside.net, NYC
Using homebuilt electronics, webcams, dj skills & his own software patches, Jamie Allen disintegrates genres into something he calls 'circuit-music.' Expect a thrilling audio-visual performance of never-experienced sound.

posted. Tue - February 13, 2007 @ 08:46 PM