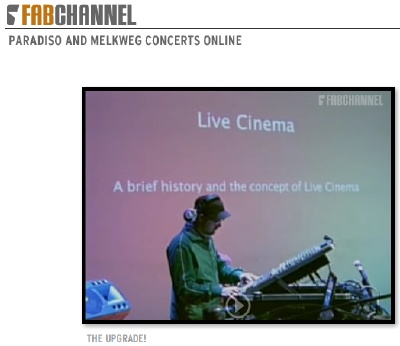 Good morning.
Upgrade Amsterdam
has a very neat video documentation & streaming system with
FabChannel
, & the 14th June performance and talk is now available
online
. A brief AUTOSEVCOM TACSAT sound-art / broadcast performance begins just after 80 minutes, the talk directly after about 90 minutes. Military streaming & scanning are the theme of the sound work with some police radio samples from the Seattle WTO
protests
. The talk touches upon the notion of the "live" in laptop performance, discussing some of the written work of
Kim Cascone
and suggesting that the notion of the "broadcast" be sampled & consequently mutated from his piece rather than (and in contradistinction to) his conclusion, in which he turns to the performance codes of electro-acoustic music. I also attempt to explain the metaphysics of
spectacle
in under a minute.
[[
UPGRADE GOES LIVE
]]
AND..! ::

An "audio self_portrait," part of
Agricola de Cologne's
://selfportrait
new media & net-art project, titled "self_portrait24May06," is now online, and will be installed shortly at the
Al Kahf Art Gallery
at Bethlehem International Center. The piece is under the "multi-media / sound-art" tab, under my name.
The works for [[
://selfportrait
]] ;
_ & the event blog is
here
.
Then the entire shebang goes on tour. After Bethlehem, the show and its message of peace will be spread around the globe. The first venues are:
--->in Italy Casoria Museum of Contemporary Art Naples/Italy [inauguration on 16 December 2006]
--->in Poland - Officyna Art Space Szczecin & Museum of Swinoujcie [inauguration on 20 October 2006]
--->in Argentina - MAC - Museo Arte Contemporaneo Santa Fe [inauguration on 6 December 2006]
-->in Argentina - MACRO - Museum Arte Contemporaneo Rosario [inauguration in the beginning of January 2007]
..
&
it also seems the various sound-art pieces I curated (as well as some of my own work) in 2003/04/05 for
[R][R][F]-->XP
(Remembering Repressing Forgetting), specifically the
SoundLab
, continue to tour due to Agricola's inexhaustible energies; including to
FILE
in Brazil. Agricola seems to keep a blog for the various octopus arms of his projects
here
.
./.. /././..
posted. Fri - June 30, 2006 @ 12:14 PM