upgarde..! & back [in the swinging of things]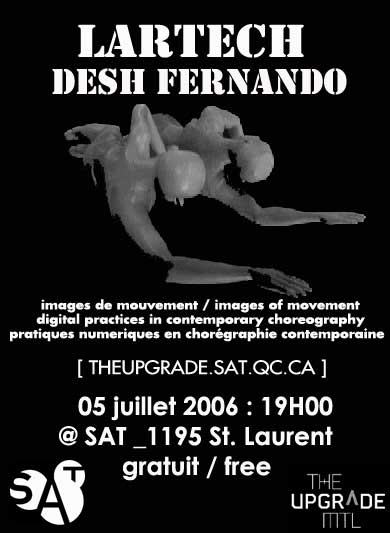 Mmm, another fantastic
Montreal Upgrade
upcoming this 05 July @
SAT
, the prime organiser on this version is
Anik Fournier
who investigates the intersection of choreography, dance and the screen. She has curated the
LARtech
project from
UQAM
which translates dancers into particles &
Desh Fernando
who works with film and choreography. It should be a very performative and intriguing evening to say the least, and as usual it's ridiculously free. 7pm.!
AS for me I just got in from Amsterdam, the
Upgrade Amsterdam
was a real treat, their second edition in the
Melkweg
, organised by
Nat Muller
& Lucas Evers. The whole shebang on live cinema in which I discuss the "laptop live or dead?" arguments circa 2000 as well as perform a shortened
AUTOSEVOCOM TACSAT
& dj will soon be at
Fabchannel
[search: Upgrade]. To finish the evening they had absynthe martinis which were tasty & they even included the ice -- a secret recipe for madness which I was happy to share from many trials and experiments here in MTL, some of which resulted in nudity among more than two people at any given time.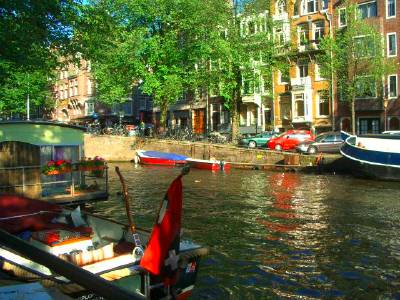 [ amsterdam! ]
Hanging out with
Mistah Reddell
was also quite the experience once again & although I missed most of it,
SLSA_Europe
was much more fun than expected (and I wish I would have had more time to attend more of the panels). In any case, one surprise was the dance which I dj'ed and which, believe it or not, had a solid crew of people actually getting freaky to microhouse and minimal techno. Only in Europe are the academics ex-acid house freaks...! But certainly the presence of a certain Quebecois-Toronto-Italian crew of graduate students accelerated the evening where it needed to go. And one cannot help but think that the Americans were shaken loose by the plentiful presence of legalized smoke.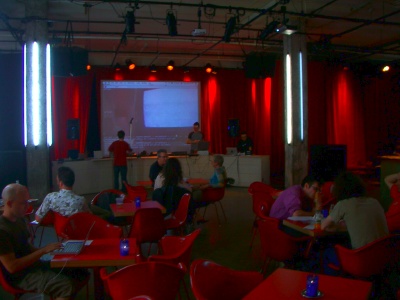 [ nettime_north_america: cabaret numerique ]
The
Nettime_North_America
fallout continues to spread its radio_active cloud & soon there will be gatherings like mushrooms in London, Amsterdam and on a secondary trunk line in Germany. Discussions continue and who knows what late 06 and 07 and 08 will bring. Nettime revitalized, the corpse rewired into a wireless automaton? The living_dead is the new critique..!
I also like how
this blog
mispells "Upgrade" so it becomes "Upgarde" -- kind of an ascended "avant-garde" ? Hein?
PROUSSST!
././..//./.
posted. Thu - June 22, 2006 @ 08:26 AM
|