Upgrade_Amsterdam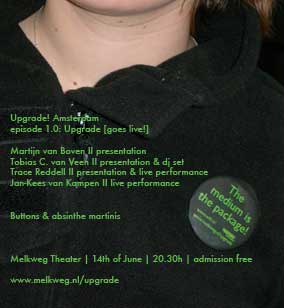 ola, I will be talking on the concept of the "live" in digital culture @ the
Upgrade Amsterdam
on the evening of Wednesday 14th June 06. For those of you in the Netherlands, check it out @ the
Melkweg
; for those of you global, it will be
live webcast
. The infamous psyhonaut
Trace Reddell
will also be demonstrating some of his live cinema, as well as work from
Martijn von Boven
&
Jan-Kees van Kampen
. The general themeatic is "The Upgrade goes Live!" with a focus on "live cinema"... I'll be DJing after & absynthe martinis will be served (!).
While in the Flatlands -- besides buying salty licorice in vast quantities -- I will be speaking at
SLSA Europe 06
& hanging out @
STEIM
so do feel free to drop a line if you are around.
e/i
#7 is now out & sadly it is the last issue. More on that shortly. It's been one very... memorable month.
../.../././/./././. /./.. _out_
posted. Sun - June 11, 2006 @ 12:47 AM
|