So here's something unpublished from the archives -- that touches on the culmination of the
MDCN project
, where I've been blogging the past few months. - tV
===== 29.11.2004:
My weekend began Thursday night with
The Upgrade
. This has been one
long
weekend. All five
Cremaster
films, viewed in sequence at the
Musee d'art contemporain
, are blending in with a 4.5 hour Dj set at one of M.M.'s infamous loft parties... a miniscule penthouse over Montreal's St. Laurent boulevard with a roof terrasse leading out to the black expanse of the evening... with the arrival of Colin the Mole at 3:30am, the hourly waves of nightcrawlers gelled into a cohesive mass of funk... and the Mole did funk out: "I lost it (in New York)", Francois Kevorkian's "Wave," limitless and deep house touching into that dirty disco with the tinge of gospel. But not before the oven caught on fire. Luckily, instinct kicked in with the fire extinguisher, saving us from one of those
Backdraft
scenarios (an earlier attempt with water resulted in ceiling-grazing flames as a smoldering keesh exploded). I had the pleasure of djing acid house classics back to back with microhouse a la Akufen, into Detroit and back out again via dub techno, for that four and a half hours.. The "Improvised Drumming Hour" added a rather drunken flavour (reminding me of Montreal's summer ritual in the park, Tam-Tams: Quebec Hippies have a peculiar lack of rhythm the more they get stoned).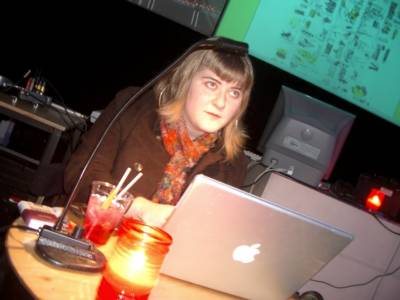 (Michelle Kasprzak @
the Upgrade
)
Alas, my lovely and I had to get up to attend Cremaster 1 at 2:30pm. The day had already sliced into consciousness at 8am with an interview on
CKUT
, and the night before, a packed Upgrade @
SAT
.
Michelle Kasprzak's
talk was an evocative detour through the "experiential" aspect of sound, the communal, group feeling often expressed in sonic phenomenology. She tied this into her work on parade interventions and her new pieces being developed for the
SonicScene
project of
MDCN
. This untitled piece [as of 2005: "Sonic Signatures"] utilises the ancient art of foley to recreate the sound of a particular geographical location (often, the cafe in which the
ISF
hotspots are installed). The foley atmosphere is geolocalized via distribution over locative wireless networks (localised hotspots with captive portals). She's taken on the challenge of working conceptually within sound that the curatorial
conception
for SonicScene originally desired.
After Michelle's talk : a collective curated from the
mix_sessions
community known as Timbral Fresco took the stage in one of the more vibrant performances to hit
SAT
.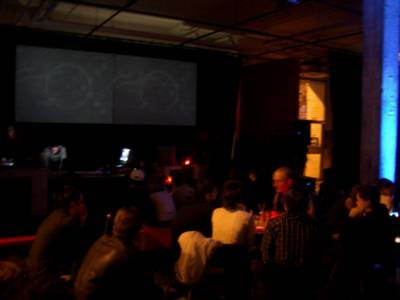 posted. Fri - May 13, 2005 @ 11:42 AM